Regular price
Sale price
$40.99
Unit price
per
Sale
Sold out
Made in Germany from anodized stainless steel
Available in three gauges
Famous Herm Sprenger quality
Prong Collar Sizing
Prong collars are measured by the gauge or thickness of their links. The gauge determines the actual size of the prong links and you will want to choose one appropriate for your dog. The length of the collar is much less important because links can be added or removed. 

4.0mm Collars
Large, heavy links that can be difficult to manipulate. Appropriate for very large dogs in the 100+ pound range.

3.25mm Collars
Medium sized links that offer a good balance between stability and easy manipulation. Well suited to most dogs in the 50-100 pound range.

3.00mm Collars
Virtually identical in size to 3.25 with links just slightly smaller. Only available in chrome and antique brown. Well suited to most dogs 50-100 pounds.

2.25mm Collars
Small links with a greater risk of accidental opening. Suited for dogs less than 50 pounds or larger dogs requiring a sharper correction.
Prong Collar Positioning
Prong collars are designed to fit tightly, at the top of the dog's neck right behind the ears and directly under the jawline. Prong collars should not be worn loosely or allowed to drape down over the dog's shoulders.
Click Lock Center Plate
This Sprenger Click Lock Center Plate replaces the center plate on an existing prong collar converting it to an easy to open and close buckle collar and elimantes the need to open individual links.

Manufactured directly by Herm Sprenger in Germany, this buckle is an authentic Sprenger product and is warranty safe.

The clasp is made from Stainless Steel and the safety cover from saltwater-resistant plastic. The guaranteed tensile strength of the buckle is 200kg.



Collar Sizing
The buckle is one size with connecting holes located in different locations depending on the size of the prong collar it is to be attached to. The buckle is identical to the Click Lock fastener used on other Herm Sprenger prong collars.

Buckle Dimensions
Overall length of buckle: 2½"
Overall width of buckle: 1¼"
Thickness of metal buckle only: ⅜"
Thickness of buckle and safety jacket: ½"
Share
View full details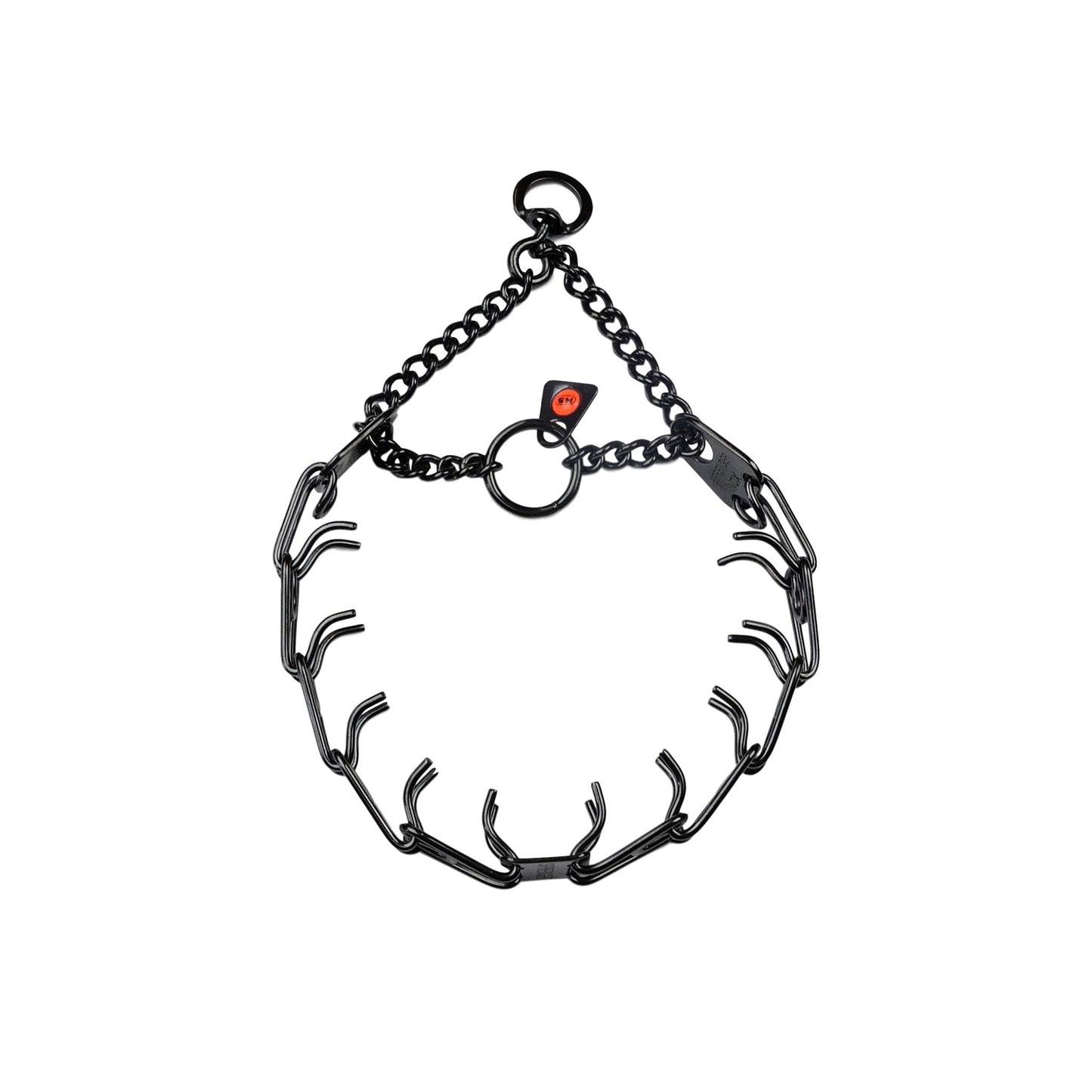 Herm Sprenger prong collars have long been considered the gold standard for prong collars.  These collars are made in Germany from high quality stainless steel and anodized black. The black color blends nicely with dark colored dogs and helps reduce the visibility of the prong collar for sensitive environments.

Prong collars can be adjusted for length by adding or removing links from the collar.  Additional links are sold separately.
Great training collar as with all herm sprenger products when used properly!
I love my herm sprenger prong collars and have had to buy another larger size since I lost the one I bought a few years ago, so I have a few sizes to work with depending on the day with my dogs. Glad to have checked here instead of ordering on Amazon as there was a Black Friday deal and I spent far less here than I would've on Amazon including shipping.
Black stainless steel herm sprenger prong collar
I recently purchased this prong collar and I love it. My 2 yr old German shepherd does not pull any longer. I researched this particular prong collar and this was the best price by far.
Always Top Quality Products and Services at Dog Sport
This store is fantastic for quality products and services. They stock Sprenger training collars made of quality German steel so you can be confident that it will last and not break.
Favourite collar
My favourite collar, and a quality product.
Awsome collar works great