Regular price
$359.99
Sale price
$309.99
Unit price
per
Sale
Sold out
3/4 mile range

Stimulation levels 1 to 100
Configurable boost level
Uses RX-090 receivers

Shock proof and water proof
E-Collars may ship separately
Share
View full details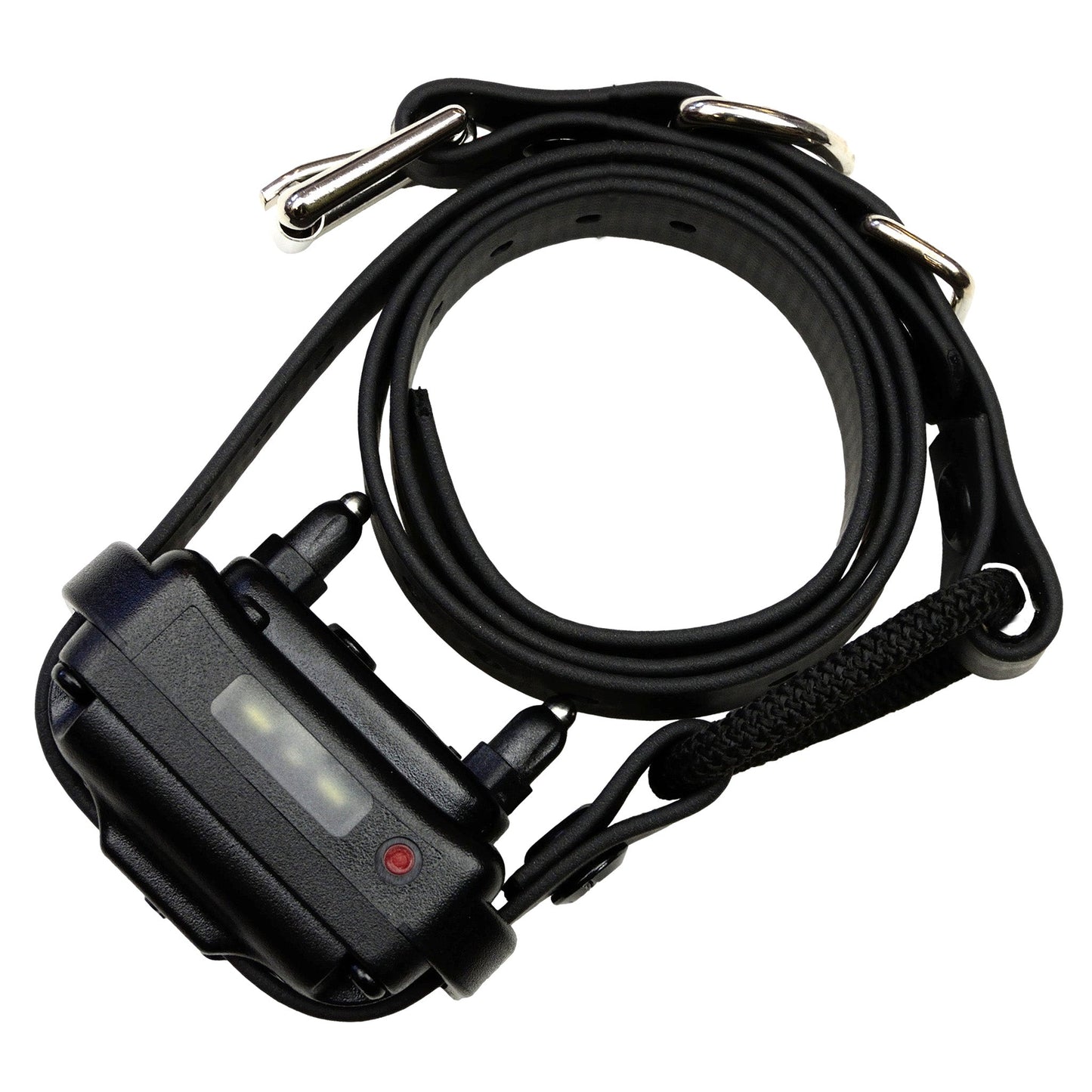 The K9-400 K9 Handler employs proprietary "blunt" stimulation making it the most humane and effective e-collar trainer available.  This model is the same as the ET-400 in all aspects except it is packaged in a hard plastic carrying case, contains additional 3/4" bare contact points, a quick release belt clip and features a bungee collar.
The bungee loop in the collar allows for the collar to expand and contract as the dog's throat swells during heavy exercise or barking, maintaining the correct pressure no matter what you are training. 3/4" Bare points (CP Thick) are ideal for use with coated dogs such as German Shepherd Dogs.
Assembled in the USA, E-Collar technologies systems are completely modular.  A one dog system can be configured for second dog or plus system with an additional receiver.
The K9-400 K9 Handler from E-Collar Technologies is loaded with features. The transmitter is configurable for stimulation levels from 1 to 100 with the ability to "lock and set" the stimulation level.  Features a configurable boost setting from 1 to 60. Alternative stimulation options include vibration and tone. Receivers have a light that can be activated from the remote and set to flashing or solid.
RX-090 receivers are low to medium power receivers suitable for dogs 10 pounds and larger. Each receiver, without any contact points installed, weighs roughly 2.3 ounces and measures 2.5" x 1.5" x 1.5". 
A single RX-090 receiver is more than enough power for most dogs for most applications. Very stubborn or hard-headed dogs, and working dogs engaged in bite sports, military or police activity may require multiple receivers.
E-Collars may be subject to additional anti-fraud screening. If there is a problem with your order we will contact you.
Standard Package Contents
1 - 3/4 Mile Remote Transmitter (Black)
1 - Hard Plastic Carrying Case (Black)
1 - RX-090 Receiver
1 - 3/4" Biothane Bungee Collar (Black)
1 - Dual Lead Charger

1 - Set of Standard 3/4" Contact Points
1 - Set of CP Thick 3/4" Contact Points
1 - Set of Standard 5/8" Contact Points
1 - Skin Removal Tool

1 - Accessory Package (Test Light, Skin Removal Tool, Contact Point Removal Tool)
1 - Lanyard
1 - Quick Release Belt Clip
1 - Owners Manual 
K9-400-Plus and K9-402 Additional Contents

1 - Additional RX-090 Receiver 

1 - Y Splitter for Charging

1 - Additional 

Set of Standard 3/4" Contact Points



1 - Additional Set of Standard 5/8" Contact Points
1 - Additional Set of 

CP Thick 3/4" Contact Points
K9-402-Plus (2 Dogs - 2 Receivers) Additional Contents

3 - Additional RX-090 Receivers 


1 - Additional 3/4" Biothane Bungee Collar (Red)

2 - Y Splitters for Charging

3 - Additional 

Sets of Standard 3/4" Contact Points



3 - Additional Sets of Standard 5/8" Contact Points
3 - Additional Sets of 

CP Thick 3/4" Contact Points